Research Foundation Board Member Hillary D. Hansen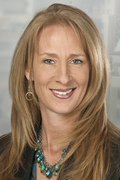 Ms. Hillary D. Hansen has over 27 years of experience working with public and private companies both domestic and international in the financial services sector. Ms. Hansen has broad experience in all areas of complex banking organizations: SEC reporting, regulatory matters, banking, capital markets, derivatives, hedging, broker/dealers, lending, trading, operations, risk, liquidity, leasing, foreign banking operations, special purpose entities and trust and custody businesses.
She is the lead partner on several broker dealers, banks, hedge funds and special purpose entities and companies in the financial services arena. She has extensive experience with compliance and regulatory topics for both clearing and introducing broker dealers including 17a-5 3-1 and 3-3. She has extensive knowledge in the areas of controls over financial reporting and compliance, as well as SOC-1's and Sarbanes Oxley.
Ms. Hansen is accredited for Broker-Dealers, IFRS, Pension Accounting, Governmental Accounting Standards and holds a New York and a New Jersey Certified Public Accountant.
Selected clients served over her career: SG Americas Securities, UBS, BNP Paribas, Siemens, DNB, ICE/NYSE, Mizuho, Bankers Trust, Rabobank, KBC Bank, American Express, Lehman Brothers, Fuji Bank, Morgan Stanley, JPMorgan, Bank of New York, Deutsche Bank and Merrill Lynch.
Ms. Hansen serves on the following committees: