Research Foundation Board Member Edward M. Spiro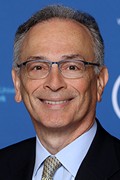 Edward M. Spiro was appointed as a member of the SUNY Board of Trustees on June 17, 2016, for a term commencing June 22, 2016. His term on the Board expires June 30, 2020.
Mr. Spiro is a partner at Morvillo Abramowitz Grand Iason & Anello P.C. handling complex commercial litigation at the trial and appellate level in state and federal courts, and in arbitrations, for individual and corporate clients. He has extensive experience defending civil litigation related to concurrent governmental investigations or prosecutions, including class actions, derivative cases, and other complex matters involving the securities and antitrust laws. Mr. Spiro also represents law firms and accounting firms in a variety of contexts, including on partnership issues and matters of professional responsibility and liability. He has served as an expert in the areas of legal ethics and standards of care.
Mr. Spiro is co-author of Civil Practice in the Southern District of New York, 2d Ed. (Thomson Reuters 2015), a two-volume treatise updated annually, and co-author of a regular New York Law Journal column on civil practice in the Southern District of New York. He has lectured on professional ethics for the Practicing Law Institute and for the past several years chaired a New York City Bar Association CLE program entitled "Ethics, Discipline and Real World Obligations."
Mr. Spiro is a member of the Departmental Disciplinary Committee of the Appellate Division, First Department. He is a member of the House of Delegates of the New York State Bar Association. He is a former director of the New York County Lawyers' Association and former Chair of its Committee on Professional Discipline. Mr. Spiro is a former Chair of the Committee on Professional Discipline of the New York City Bar Association. He is a Fellow of the American Bar Foundation and a trustee of the Shaker Museum | Mount Lebanon.
Mr. Spiro graduated from Colgate University, B.A., cum laude, and Boston University School of Law, J.D., cum laude, where he was a member of the Law Review.
Mr. Spiro serves on the Finance Committee.