Research Foundation Board Vice Chair Eileen G. Whelley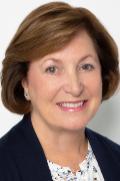 Eileen G. Whelley is retired from the XL Group, having served as Chief HR Officer, where she was responsible for leading all aspects of Human Resources including leadership development and succession planning, compensation and benefits, diversity and inclusion, cultural transformation and colleague engagement.
Prior to joining XL in 2012, Eileen spent 5 years as CHRO for the Hartford Financial Services Group, and before that, was at GE for 17 years where she held a number of HR leadership roles, including EVP HR for NBC Universal.
Eileen has expertise in the areas of organizational transformation, executive development, leadership effectiveness, acquisition integration and executive compensation. She is passionate about the role that HR professionals can play in enabling corporate strategy and supporting business leaders.
Eileen graduated from SUNY Potsdam with a BA in Sociology and earned an MA from Bowling Green State University.
She is a Trustee of SUNY Potsdam's Foundation Board where she chairs the Trusteeship Committee and is a member of the Executive Committee.
Eileen and her husband Don reside in the Saratoga Springs area and have two children.
Ms. Whelley serves on the following committees: