Research Foundation Board Member Satish K. Tripathi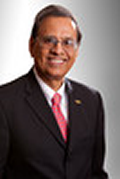 An internationally distinguished researcher and transformative higher education leader, Dr. Satish K. Tripathi was appointed the 15th president of the University at Buffalo on April 18, 2011.
Dr. Tripathi, who served as UB's provost and executive vice president for academic affairs from 2004-2011, was one of the principal creators of the UB 2020 strategic plan to achieve academic excellence, and has led the university to achieve significant growth in research and scholarly activity, enhanced student quality and diversity, and an expanded international presence. As Provost, he led the recruitment of many prominent faculty to the university and oversaw a substantial increase in the number of faculty hired to develop and enhance strengths in key areas of research and scholarly activity. Building on this strong foundation, Dr. Tripathi's vision for UB's future focuses on moving the university into the highest ranks of the nation's leading research universities through expanding its reach and impact locally as well as globally.
Dr. Tripathi served as dean of the Bourns College of Engineering at the University of California-Riverside from 1997-2004. Previously, he spent 19 years as a professor of computer science at the University of Maryland, including seven years as department chair. He also has held visiting professorships at the University of Paris-Sud in France and the University of Erlangen-Nuremberg in Germany.
The first international-born president in UB's history, Dr. Tripathi graduated top of his class from Banaras Hindu University in India. In addition to a doctorate in computer science from the University of Toronto, he holds three master's degrees—one in computer science from the University of Toronto and two in statistics from the University of Alberta and Banaras Hindu University. A fellow of the IEEE and the American Association for the Advancement of Science, he was awarded the honorary doctorate of sciences from the prestigious Indian Institute of Information Technology, Allahabad.
An active leader in the national higher education community, Dr. Tripathi is a member of the Mid-American Conference Council of Presidents Executive Committee and the boards of directors of the Council for Higher Education Accreditation and the Digital Preservation Network. Among his numerous community leadership roles, Dr. Tripathi serves on the board of directors of the Buffalo Niagara Partnership, Great Lakes Health, and the Buffalo Urban League, and was appointed by Governor Cuomo as co-chair of the Regional Economic Development Council for Western New York.
Dr. Tripathi serves on the following committees: