Research Foundation Board Member Diane M. Minas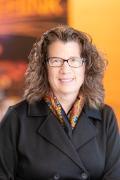 Diane M. Minas is currently the EHS Technology Leader at General Electric's Global Research Center (GRC) located in Niskayuna, NY.
Diane has been at GE's research center since 2007. In her role, she has interacted on international and national levels as it pertains to legal and compliance related matters on a broad range of topics including clinical and non-clinical testing regulatory requirements, OSHA-VPP, data privacy and risk assessments. Notably, in 2012, Diane successfully implemented a robust risk assessment program designed to standardize risks and hazards across all research projects in every business sector. She routinely interfaces on projects pertaining to business segments as they relate to GE interests in Artificial Intelligence, Additive, Aviation, Oil and Gas, Energy, Power, Renewables, Healthcare, and Robotics. Diane currently serves on GE's EHS Executive Council as the business representative for Global Research and is the primary liaison for business development/externals for Healthcare and Computer vision, generally, and is the Compliance Assurance Lead for Global Research. She also co-developed and served on GE's Corporate Innovation Council.
Previously, Diane was the Director of Quality Assurance for Taconic Biosciences for ten years. Notably, in that role, she helped design and build a Biotechnology facility for cGMP production of monoclonal antibody for cancer screening and therapies. During that tenure she also developed a compliant quality system consistent with device manufacturing (QSR) and laboratory testing (GLP) and was the lead interface with the company, customers and the FDA for compliance audits and all regulatory related matters pertaining to manufactured products. She also aided in the design of non-clinical testing facilities in the US and abroad, designing and implementing Quality systems consistent with internal company and certifying body standards. Diane was part of the Executive Strategic Leadership Team, and regularly reported to Taconic's Board of Directors on compliance and regulatory matters in her role as Director of Quality Assurance.
Additionally, Diane worked for ten years in the Environmental Industry as the Director of QA/QC for testing laboratories. She worked primarily on Superfund and Contract Laboratory Protocols as it pertained to data quality on resultant testing for PCBs, organics, inorganics, wet chemistry and asbestos in various sample types. To that end, she routinely interacted with customers, State and Federal agencies and the court system in legal matters pertaining to analytical results and their accuracy and was principally responsible for State and Federal laboratory testing certifications. Diane also developed electronic data capture techniques for laboratory instrumentation to streamline result and data capture to enhance operational speed and accuracy.
Diane is a graduate of SUNY Buffalo, earning a master's degree in Biology with a concentration in Molecular Biochemistry. She obtained bachelor's degrees, also from SUNY Buffalo, in both Biology and Political Science.
Diane and her husband Constantinos reside in Guilderland, NY and have two adult children.
Ms. Minas serves on the Audit Committee.