Mr. Robert P. Balachandran, Esq.
Research Foundation Board Member Robert P Balachandran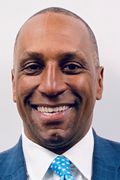 Robert P. Balachandran is a Principal and President of BellRow Title Agency. In his role as President, Robert is responsible for overseeing the day to day operations of the firm and is charged with establishing and executing the firm's strategic growth initiatives. Robert brings to the firm, his diverse background and broad range of experiences that he has gained after 20 years of working in the real estate industry as an attorney, developer, consultant, and investment banker.
Mr. Balachandran has been involved in the title insurance industry since 2010, starting as a business consultant to the title industry and later as the head of National Sales of one of the largest title insurance agents in the New York Metropolitan region. Robert has very quickly developed an intimate understanding of all aspects of the title insurance industry including title search, production, and closing operations.
Prior to working at BellRow Title, Robert served as Executive Managing Director/Chief Administrative Officer for the global real estate firm, Cushman & Wakefield. Mr. Balachandran also held senior positions as both a Managing Director and Executive Director at Bear Stearns and JP Morgan, respectively. Mr. Balachandran has held senior cabinet positions in New York State government, serving as both a Senior Assistant Counsel to the Governor and later as the President/CEO of the Hudson River Park Trust, where he was in charge of the $400 million construction of the Hudson River Park, the largest open space development in Manhattan since the creation of Central Park.
Mr. Balachandran currently serves on various Boards and Charities including the New York State Affordable Housing Association, Cardinal McCloskey Community Services, the State University of New York at Albany, the City of New Rochelle Industrial Development Agency and Play Rugby USA. Most notably, Robert served as a Board Member on the Lower Manhattan Development Corporation, the New York State Public Authority charged with design and redevelopment of the "Ground Zero" site in Lower Manhattan after the terrorist attacks on the World Trade Center on September 11, 2001.
Robert received his undergraduate degree from the State University of New York at Albany (cum laude) and his law degree from Albany Law School.
Mr. Balachandran serves on the following committees: