Research Foundation Board Chair Emeritus Mr. John B. Fitzgibbons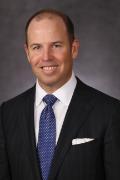 John B. Fitzgibbons has been an active participant in global energy markets since the early 1990's. Today, companies founded by him employ over 20,000 people across more than a dozen developed and emerging markets. His philanthropic interests have focused on research in education and healthcare, where he has provided leadership to several impactful non-profit US institutions. His public policy interests have focused on energy and international affairs.
Mr. Fitzgibbons founded and is chairman and CEO of Basin Holdings, comprising a group of companies active in the manufacturing and distribution of specialized oilfield equipment to global customers. He is a founder and chairman of the following four companies: Integra Group (LSE:INTE), an oilfield services company active in Russia; Brookline Real Estate Partners, a real estate development company active in the US; Global Guardian LLC, a global security firm active in 20 emerging markets; and Hudson Valley Harvest, an agricultural distribution company active in New York State. Mr. Fitzgibbons is also a co-founder and director of Deerpath Capital a New York based investment fund providing loans to small and mid-sized US companies. Through J. Fitzgibbons LLC, Mr. Fitzgibbons manages a wide variety of investments.
Mr. Fitzgibbons is a co-chairman of the Cancer Research Institute, a non-profit organization dedicated to the global development of new immune-based cancer treatments. He is a Trustee of Milton Academy, an independent secondary school in Massachusetts. He is also a member of the Council on Foreign Relations in New York.
Mr. Fitzgibbons attended Harvard College, graduating cum laude with a BA degree in Government. Following graduation, he worked briefly as an Economic Advisor to the Russian Vice Prime Minister in Moscow, Russia.
Mr. Fitzgibbons serves as an advisory member of the Finance Committee's Subcommittee for Investments.
The Board of Directors conferred on John B. Fitzgibbons the designation of Chair Emeritus of the Research Foundation, in recognition of his long and distinguished service on October 12, 2017.