Instructions for Completing ACH Enrollment Form
Instructions for Completing ACH Enrollment Form
Use these instructions to complete the ACH Enrollment Form to receive Supplier reimbursements via direct deposit.
This form is also to be used for subsequent changes to bank information or to cancel direct direct deposit.
Note: This form is for AP payments only. Please check with your payroll department for information on payroll direct deposit.
Completing the Form
The check image and the table below provide guidance on the information to enter for each field on the form.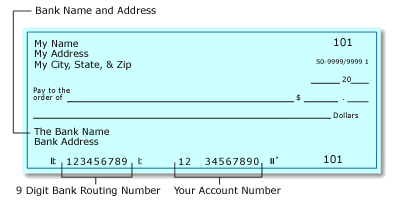 Submitting the Form
Once all required fields are completed, press the "Submit Form" button to send the completed form to the Finance Office for processing.
> Back to ACH Payment Enrollment Form