Roseanna Stasik
Administrative Assistant, Stony Brook University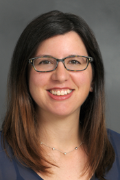 Mentored By:
Why I want to be a Protege:
As a protégé in the mentoring program, I am hoping to challenge myself, gain confidence in my abilities, and network with other professionals.
Personal Statement:
I am a wife and mother of 2 children. I have over 11 years of administrative support experience, and found the last 3 years in higher education extremely rewarding. During my free time, I enjoy jogging and spending time in nature.
Goals:
To gain leadership skills and grow within the organization.
Contact information:
roseanna.stasik@stonybrookmedicine.edu