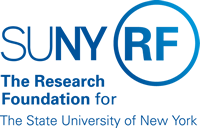 NYS Disability Insurance
NYS Disability Benefits Law
The New York State Disability Benefits Law, in accordance with the State of New York Workers' Compensation Board, requires that the Research Foundation (RF) provide partial income replacement to employees for up to 26 weeks for an off-the-job illness or injury.
The Research Foundation is also required by the law to ensure that employees receive information on their entitlement to disability benefits. A Statement of Rights - Disability Benefits Law is provided to employees at the time of eligibility for a disability claim. This statement is provided on the RF Web portal under Benefits Administration: Benefits - Regular Employees: Disability Insurance - Regular Employees.
Eligibility for Coverage
All employees are eligible for New York State Disability benefits.
Claims Administrator
The Research Foundation contracts with First Reliance Standard Life Insurance Company (First Reliance) to administer New York State Disability claim payments. First Reliance can be contacted at:
First Reliance Standard Life Insurance Company
7 Skyline Drive, 2nd Floor
Hawthorne, NY 10532
Phone: 800-559-0954
Fax: (914) 784-0025
Cost of Coverage
The RF pays the full cost of New York State Disability insurance coverage.
FICA Taxation
Under federal law, disability payments (resulting from sickness or accident) are considered wages subject to FICA withholding for 26 weeks (6 months) from the date the employee last worked. The employee share of FICA tax contributions is withheld by First Reliance before payment of the employee's biweekly partial income replacement. The RF makes a matching FICA contribution.
A separate Form W-2 (Wage and Tax Statement) for any partial disability income received will be forwarded to the employee by First Reliance.
Notice of Compliance
The Workers' Compensation Board issues a notice that indicates the employer's compliance with the New York State Disability Benefits Law and provides information on steps to take in order to file a New York State Disability claim.
Central office provides operating locations with the current notice of compliance. Refer to the RF Web Portal for the current Notice of Compliance with Disability Benefits Law.
Operating locations are required to post the current notice in places where it can be seen by RF employees. Examples of appropriate places for display include the sponsored programs office, the sponsored programs personnel office, or any place where RF job opportunities are posted.
Related Documents
For additional information about New York State Disability Insurance, refer to the following documents on the RF Web Portal:
Change History
March 19, 2007- Revised content in Claims Administratior section and updated various links.
August 31, 2001- Converted and revised be-a-210 from the Benefits Manual.
Feedback
Was this document clear and easy to follow? Please send your feedback to webfeedback@rfsuny.org.
Copyright © 2011 The Research Foundation of State University of New York