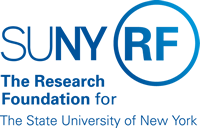 Sponsored Programs Application Policy
| | |
| --- | --- |
| Effective Date: | April 6, 2009 |
| Supersedes: | N/A |
| Policy Review Date: | To be reviewed every 3 years from effective date |
| Issuing Authority: | Research Foundation President |
| Policy Owner: | Scott E. Shurtleff, VP Sponsored Programs & Regulatory Affairs |
| Contact Information: | RFCOSponsoredPrograms@rfsuny.org |
Reason for Policy
The Research Foundation is responsible for the fiscal and administrative management of the research enterprise within the University. All applications for sponsored program support are made by the University through the Research Foundation as set forth in the June 1, 1977, Agreement Between State University of New York and The Research Foundation of State University of New York.
Statement of Policy
Sponsored program applications (initial and revised) can be submitted by the Research Foundation on behalf of the State University of New York (SUNY) after review and endorsement by a Research Foundation operations manager or delegate.
All sponsored program applications submitted by the Research Foundation on behalf of the SUNY must:
be approved by an appropriate SUNY/campus official.
contain fiscally complete budgets that provide for recovery of all applicable indirect costs and fringe benefits at the maximum current
rates allowed by sponsor and SUNY/Research Foundation policy.
comply with all applicable Research Foundation and sponsor policies.
Definitions
None
Related Information
Application Review and Endorsement
Forms
None
Change History
| | |
| --- | --- |
| Date | Summary of Change |
| August 3, 2023 | Policy reviewed and updated formatting |
| April 6, 2009 | Effective Date |
Feedback
Was this document clear and easy to follow? Please send your feedback to webfeedback@rfsuny.org.
Copyright © 2023 The Research Foundation for The State University of New York