Ms. Heather Briccetti Mulligan
Research Foundation Board Member Heather Briccetti Mulligan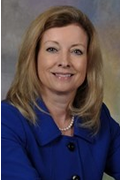 Heather Briccetti Mulligan is the president and chief executive officer (CEO) of The Business Council of New York State, Inc., the primary, statewide association advocating for New York's business community. Ms. Mulligan is a dynamic leader, trusted advisor and champion for economic growth, good jobs and strong communities across New York.
As a visionary for New York's economy, she has created a leading voice for business on economic growth, corporate governance, tax policy, labor, manufacturing, campaign finance reform, value creation, and education, among other issues.
Ms. Mulligan joined The Business Council in 2007, as vice president of government affairs, overseeing the organization's legislative and pro-growth agendas. She holds a Juris Doctor from Albany Law School.
Prior to The Business Council, she was a consultant and lobbyist for Powers and Company, where she advised clients on a range of issues including high-profile economic development projects such as the Javits Center expansion and the new Yankee Stadium in New York City.
Ms. Mulligan's notable career achievements include serving as assistant counsel to the New York State Senate majority, as a legislative aide and counsel to the New York State Assembly majority committee on Racing and Wagering, and special counsel in the New York State Attorney General's office. She also founded a private law practice, Sweeney & Wollowitz, and served as the chief public defender for Rensselaer County, earlier in her career.
Ms. Mulligan has served on numerous boards and committees, including: New York State Prison Redevelopment Commission; New York Forward Reopening Advisory Board; New York State Thruway Authority; New York State Child Care Availability Task Force; Secure Choice Savings Program; CATS Industrial Advisory Board; Capitalize Albany, Corporation; New York State Council for Women and Girls; Berkeley College Board of Trustees; National Association of State Chambers of Commerce (formerly Council of State Chambers) Board of Directors; New York State Wage Board; American Chamber of Commerce Executives (ACCE), board of directors; Central Hudson Gas & Electric Corporation, board of directors; US Chamber of Commerce Public Affairs Committee; the State of New York Supreme Court, Appellate Division's Third Judicial Department Committee on Character and Fitness; the Commercial Division Advisory Council for the Supreme Court of the State of New York; the New York State Tax Relief Commission; the New York State Tourism Advisory Council; and the Chairman's Committee for the Regional Economic Development Councils.
She has also contributed her expertise and leadership to the U.S. Chamber of Commerce Committee of 100; the Executive Committee of the National Association of Manufacturing's State Associations Group; the New York State Department of Environmental Conservation's High-Volume Hydraulic Fracturing Advisory Panel; the Foundation for Land and Liberty; Rensselaer County Alternatives to Incarceration; Binghamton University's Alumni Association; and the Susan Odell Taylor School.
Ms. Mulligan is a nationally recognized leader and a regular speaker at regional and national conferences. Additionally, she has been an adjunct professor at The Sage Colleges, lecturing on women in law and business law.
She has won numerous honors for her leadership in the business community including City and State's Above & Beyond award, and the Albany Business Review's Women who Mean Business award. Additionally, she has been included in City and State's Albany Power 100 List and profiled in the Albany Business Review, The Buffalo News and Her Life magazine.
Born in Tunisia to Peace Corps volunteers, she was raised in Syracuse, New York. Attending the University of North Carolina at Chapel Hill at 16, she transferred to the State University of New York at Binghamton, where she graduated with a Bachelor's Degree in Political Science. She graduated from Albany Law School at the age of 23. Ms. Mulligan currently lives in New York's Capital Region.
Ms. Mulligan serves on the Investment Committee.