Kerri Martin Rizzolo
Senior Analyst, SUNY System Admin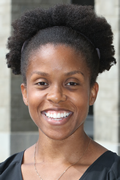 Mentored By:
Why I want to be a Protege:
I am hoping to build leadership skills. I would like to improve my skills in public speaking; strategic thinking and planning; organizational systems design and implementation; and people management.

Personal Statement:
I began my career in engineering and later made a career change to education. After teaching for several years, I came into my current role leading and supporting program evaluations for K-12 charter schools. I am looking forward to continuing to constantly learn and grow, and contribute on a greater level to the field of education.
Goals:
Short term: continue to hone skills as a program evaluator for the SUNY Charter Schools Institute; take on responsibility of managing direct reports; lead strategic planning. Medium and long term goals: become an organizational leader in education (not exactly sure what role, but a role that requires organizational and systems-level thinking).
Contact information: