Stalin Vilcarromero
Clinical Research Scientist / Asst. Prof. in Research Medicine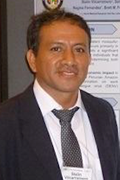 Specialites: Vector Borne Diesease
Mentoring:
Why I want to be a mentor:
I enjoy teaching and my large experience as a advisor in Peru.

Personal Statement:
I am a research physician with a long expertise in vector borne disease. Two years ago, I started working tick borne disease in Long Island. Several students have been collaborating with our project. One paper will be submitted soon.
Philosophy:
I enjoyed mentoring three students under the potential publication of their research paper.

Commitment to Diversity:
During this 2 years working in Long Island, we have been working with students from different ethnicities among the immigrant population from Long Island.
Contact information:
stalin.vilcarromero@stonybrook.edu