Joshua Toas
Chief Compliance Officer, RF Central Office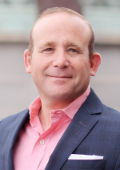 Specialties: Compliance, Law, Governance
Mentoring:
Why I want to be a Mentor:
Helping others advance at the RF and in life.
Personal Statement:
When people ask what I do, I think they are expecting a career oriented response, but in truth I do not define myself by my career. Most importantly I'm a husband and father. When not working or spending time with family, you can usually find my practicing and coaching Brazillian Jiu Jitsu.
Philosophy:
Providing training and opportunities for personal and professional growth are an important part of my job as the RF's compliance official and one that I spend considerable time, effort, and resources on.
Commitment to Diversity:
Providing opporunities for professional development is one of the key responsibilities of a leader. I strongly believe that diversity is an ethical issue and that a diverse environment fosters better outcomes.
Contact information:
joshua.toas@rfsuny.org
Link to Corporate Leadership Bio