RF Strategic Planning: Envisioning our Future
A new Strategic Plan for the RF is underway! This exciting work harnesses the voices of over 300 RF staff at SUNY campuses and the Central Office in Albany. This inclusive approach will ensure that we respond to changes in our environment; including staying connected to SUNY's strategic direction for research and innovation.
Emerging Strategies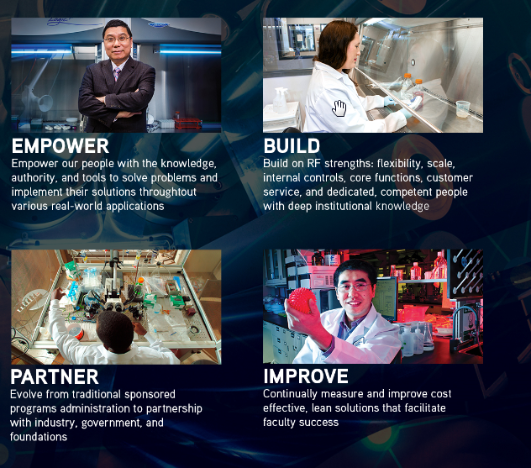 What's next?
We are aligning our plan with SUNY's strategic vision over the next several months and will present our plans at a joint meeting of our Boards of Directors in January.
How can I get involved?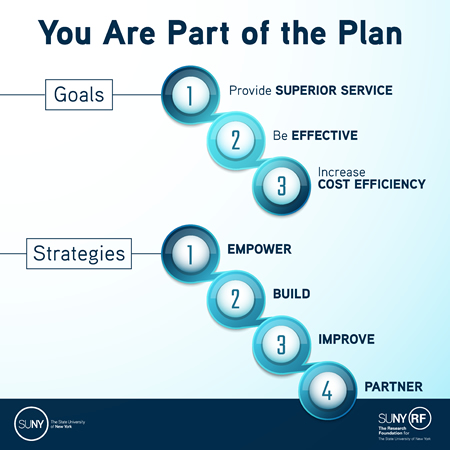 The Strategic Planning Team
Theresa Walker
University at Albany

Mary Beth Curtin
Binghamton University

Venu Govindaraju
University at Buffalo

Christina Orsi
University at Buffalo

Scott Goodman
Buffalo State

Greg O'Connor
Farmingdale State College

Rich Reeder
Stony Brook University

Sheila Routh
Stony Brook University

Scott Tenenbaum
SUNY Polytechnic Institute

Jennifer Rudes
Upstate Medical University

Eileen McLoughlin
SUNY System Administration

Joe Porter
SUNY System Administration

Grace Wang
SUNY System Administration

Chris Ashley
RF Central Office

Kathleen Caggiano-Siino
RF Central Office

Jeff Cheek
RF Central Office

Heather Hage
RF Central Office

Emily Kunchala
RF Central Office

John Paris
RF Central Office

Joshua Toas
RF Central Office