Jerry Gauriloff
Associate Director, University at Albany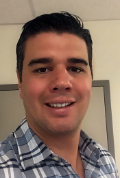 Specialties:
Post Award Grant Administration, Procurement, Accounts Payable
Mentoring:
Why I want to be a Mentor:
"I had some great mentors and I'd like to pay that forward. I also know that being a mentor is a learning opportunity for myself as well."
Personal Statement:
"I have two girls, 2 and 4. I recently took up biking and bike from Watervliet to Albany every morning before work."
Philosophy:
"I wouldn't be where I am today without the support of several mentors. I believe that it is important to give back and also that it is good business practice to ensure the next leaders are getting the experience and knowledge they need."
Commitment to Diversity:
"Out of SUNY's 64 campuses, UAlbany remains one of the most racially diverse: 42 percent of its freshman class this year identify as white, 19 percent identify as black, 19 percent identify as Hispanic/latino, 10 percent identify as other and 9 percent identify as Asian. UAlbany represents one of the most diverse R1 institutions globally. Having a leadership role in Research Administration means working hard to reinforce the values that have made UA a success."
Contact Information: