Kathleen Caggiano-Siino - Vice President of Human Resources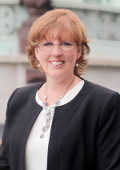 Kathleen Caggiano-Siino is currently the vice president of human resources and has been at the RF since September 2012. In this role, she leads the RF's talent management practices, builds relationships with SUNY campuses, and supports the organization in becoming an Employer of Choice. Kathleen co-leads the Learning Tuesdays sessions every other week for "just in time" learning across our campus research community. She is also the central office team leader for the campus wide mentoring and succession planning programs.
Ms. Caggiano-Siino has more than 20 years of experience as a leader and human resources professional. Prior to joining the RF, she provided oversight and leadership to the New York State Office of Alcoholism and Substance Abuse Services (OASAS) where she served as Executive Deputy Commissioner from May 2007 to August 2012. While at the agency, she was co-chair of the statewide Talent Management Steering Committee whose primary focus was to lead the field of addiction prevention, treatment and recovery toward becoming a Profession of Choice. As leader of the first OASAS Talent Pool for employees, she promoted professional development and personal learning. She also supported four state behavioral health agencies that were named to the list of Best Companies to Work for in New York State.
Before her appointment at the OASAS, Ms. Caggiano-Siino served for eight years as the senior vice president of human resources at the American Cancer Society, the largest voluntary health organization in the country. There she led teams of employees who were honored among the "Best Places to Work in NJ" and "Best Places to Work in Capital District, Albany, NY." She was also actively involved in a nationwide Talent Management Design Team whose strategic focus included "How to Buy and Build Exceptional Talent."
Ms. Caggiano-Siino actively speaks to government teams and employer groups on maximizing business and people results with a strong emphasis on professional development and leadership skill building. She frequently presents on "Servant Leadership and the Workplace," "Best Practices for Employee Productivity, Health and Wellness" and "Leading People in a Difficult Economy."
Ms. Caggiano-Siino earned a bachelor's degree in sociology/social work and a master's degree in business administration from the College of St. Rose. She held the senior professional in human resources certification (SPHR®) from the Society for Human Resources Management for many years, and she was proudly named the Outstanding HR/NY Professional of the Year in 2004 by the Human Resources Association of New York.
Contact Information:
Phone: (518) 434-7132
E-mail: kathleen.caggiano-siino@rfsuny.org