Joshua Toas - Vice President of Compliance, Chief Compliance Officer and Assistant Secretary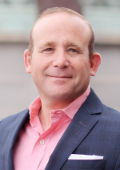 Joshua B. Toas serves as The Research Foundation for The State University of New York's Vice President of compliance, chief compliance officer and assistant secretary. He is responsible for implementing a compliance program and providing strategic advice that safeguards the RF as well as its customers, reputation, assets, and stakeholder interests. As chief compliance officer, Mr. Toas also serves as the RF's chief ethics officer, chief risk officer, privacy officer, and information security officer. Mr. Toas previously served as the RF's senior director for enterprise risk management and as the RF's deputy general counsel.
Before entering the private sector, Mr. Toas had a distinguished career in the public sector. His tenure in New York state government includes serving as CEO of the New York State Liquor Authority; as deputy executive director of the New York Office of Science, Technology and Academic Research where he served on the Governor's Homeland Security Task Force; and in the New York State Office of Alcoholism and Substance Abuse Services as executive deputy commissioner and as general counsel. He also has served as the New York assistant secretary of state, the deputy counsel to the secretary of state, special counsel to the governor, and as associate counsel in the New York state senate. Mr. Toas was a captain in the U.S. Army Reserve. He is a veteran of Operation Iraqi Freedom, where he served as the chief of administrative and operational law of Third Army, U.S. Army Central, Coalition Forces Land Component Command.
He is a member of the New York State Bar Association, the Society of Corporate Compliance and Ethics, the Association of Fraud Examiners, the Council on Government Relations, the National Council of University Research Administrators, and the American Legion. He is a former member of the Veterans of Foreign Wars, the New York State Ethics Commission Public Advisory Council, and the Reserve Officers Association. He formerly served as chairman, vice chairman, and treasurer of the board of directors of the Institute for Building Technology and Safety.
Mr. Toas received his bachelor's degree with honors in political science at Temple University in 1993. He attended Widener University School of Law where he received his juris doctor in 1996; was awarded the Wapner, Newman, Wigrizer Award for Trial Advocacy; and served as an editor of the Law Review.
Mr. Toas lives in Glenmont, NY with his wife, three children, three dogs, and thirty chickens.
Contact Information:
Phone: (518) 434-7145
E-mail: joshua.toas@rfsuny.org