Emily Kunchala - Chief Financial Officer and Vice President of Finance & Administration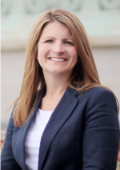 Emily Kunchala is currently the RF's Chief Financial Officer (CFO) and Vice President of Finance and Administration. She has been employed by the RF since January 2011. In this role, she responsible for providing direction and oversight to operations and initiatives that support the Research Foundation's (RF) mission and strategic plan. She oversees all aspects of the RF finances, including the annual operating and capital budgets, financial planning and analysis, financial reporting, treasury functions, risk management, financial management systems, corporate real estate and facilities.
Ms. Kunchala has over 17 years of experience in external, internal, performance and compliance auditing. Prior to joining the RF, Ms. Kunchala was a director in the public sector regulatory and compliance practice at KPMG LLP in Albany. In this role, she performed external audits, internal audits, risk assessments, and other advisory services primarily for government and higher education clients. She also instructed internal staff, clients, and related industry groups on various related topics. Prior to her employment at KPMG, Ms. Kunchala worked at PricewaterhouseCoopers LLP in Boston, where she was an external auditor in the higher education sector.
Ms. Kunchala has served as a national resource on Enterprise Risk Management (ERM) assisting other private institutions with the process of assessing and ranking risks, and creating an entity-wide process for the related ERM program. Ms. Kunchala has also presented on common approaches and best practices for ERM at industry events.
Ms. Kunchala is a Certified Public Accountant (CPA) in Massachusetts and previously held her Project Management Professional (PMP) certification. She is a board member of the Association of Government Accountants Capital Chapter and the Greene County Historical Society. She is a member of the Institute of Internal Auditors, the Association of Government Accountants, and the Association of College and University Auditors. She holds a bachelor's degree in accounting from the University of Massachusetts Amherst.
Contact Information:
Phone: (518) 434-7180
E-mail: emily.kunchala@rfsuny.org