Zulaika Rodriguez-Awoliyi
Zulaika Rodriguez-Awoliyi
Assistant Vice Chancellor for Presidential Recruitment, Evaluation, and Development, SUNY System Administration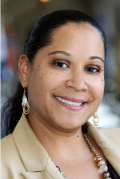 Specialties: Presidential Searches/Onboarding/Development
Mentoring:
Why I want to be a Mentor:
I started at SUNY System 15 years ago as a confused and stressed out young woman. I worked in the Chancellor's office and didn't have a clue about SUNY as a whole, but I was and still am a very quick learner. Throughout the many years I have been here, I have been lucky enough to have been surrounded by people who believed in my abilities. These same people, despite their busy schedules, served as my sounding board and took the time to help me be a better employee. I want to be able to pay it forward in some small way and help another person learn through a one-on-one relationship. I would like to help someone's transition be a bit easier by sharing both my failures and the many success I have experienced here at System.
Personal Statement:
First generation college grad, born in Puerto Rico, raised in Brooklyn. I have worked at SUNY System for 15 years starting in the Chancellor's office and worked my way through System to the position I am at now. I have two daughters and enjoy spending time with my family, cooking, reading, and lately looking to do more traveling.
Philosophy:
Mentors have a huge influence on a mentee's career, but the work really starts with yourself. You have to be willing to put in the work for your own professional development and growth so that you can help guide someone based on your own personal experience. In past experiences, I have shared some of my challenges and successes with folks as a teaching lesson. I tend to always encourage someone to finish their education and seek other opportunities within the organization. If I see an opportunity that could be good for someone, I will send them the information and/or recommend them to someone.
Commitment to Diversity:
I have been an active committee member in the Hispanic Leadership Institute; direct reports shadow me so that they can learn the ins and out of SUNY and the department; recommend and seek out professional development opportunities for employees; participated in mock interviews to help employees prepare for an internal job opportunity; sit in on various search committees within SUNY System.

Contact information: