Research Expenditures and Sponsored Programs Administration
RF Financial Concepts 101

Understanding the Business of the RF

---

Module 3: Understanding Sponsored Programs Funding

Research Expenditures and Sponsored Programs Administration

Sponsored programs administration is the most complex and important of the essential services the RF provides to the SUNY research community. Funds come in to the RF in the form of grants and contracts and the RF manages these funds to ensure compliance with university, sponsor and governmental policies and procedures. This service is called "Sponsored Programs Administration."

Funds received from grants and contracts for research programs at campuses are called "Research Expenditures." Research Expenditures is the nationally accepted way to measure how much is spent on research activity each year. Research activity is presented by the amount spent by the sponsoring agency (expenditure) on a research program.

What the Data Shows

SUNY research expenditures are expected to decrease in 2018 after steadily climbing over the last three years. This is primarily due to expected decreases in private industry funding.

Stony Brook University and the U.S. Department of Energy's Brookhaven National Laboratory have partnered to establish the Center for Frontiers of Nuclear Science, bolstered by a $5 million grant from the Simons Foundation.

Abhay Deshpande, professor of experimental nuclear physics of Stony Brook, has been named Directo of the Center, which aims to discover the unknown essentials of matter.
Total Expenditures Fiscal Years 2011-18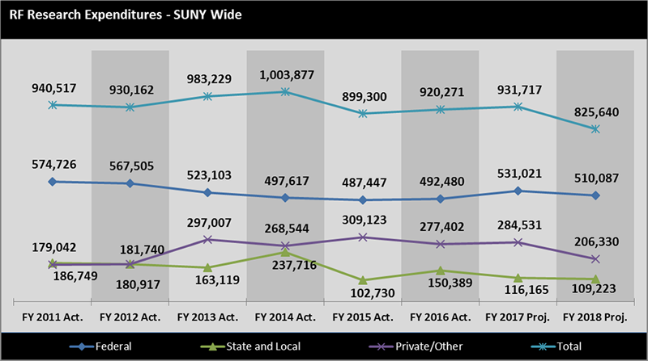 Where to Find More Information
Please refer to the 2018 Operating Plan