Funds Awarded by Different Types of Sponsors
Funds Awarded by Different Sponsor Types
RF Financial Concepts 101

Understanding the Business of the RF

---

Module 3: Understanding Sponsored Programs Funding

Funds Awarded by Different Sponsor Types

Research programs at campuses are supported by grants awarded by "sponsors." A sponsor is an individual or entity that provides funds dedicated to a specific area of research at a campus.

The RF's total research expenditures each year comes from funds that are awarded by different types of sponsors, including the federal government, New York State, private companies, and individuals.

What the Data Shows

Funds from the federal government come in three forms - direct awards from the federal government, federal flow-through NYS, and federal flow-through other sources. This comprises the largest source of funds for SUNY research.

RF has engaged with state and industry partners to set the stage for future growth from those sources. Programs such as the economic revitalization efforts under the NYSUNY 2020 Challenge Grant Program show how SUNY, government, and private-industry partners collaborate.

The Federal Government is the Largest Source of Funding for SUNY Research

Funded by the National Institute on Alcohol Abuse and Alcoholism since 1989, the Collaborative Study on the Genetics of Alcoholism (COGA) led by SUNY Downstate is the most comprehensive research project ever to be conducted on the inherited aspects of alcoholism. This large-scale family study has attracted approximately $200 million in grant funding.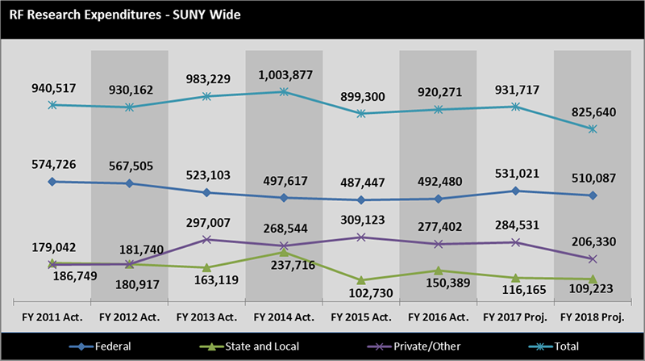 Where to Find More Information
You can find additional information on the sponsors and the dollars awarded in the 2018 Operating Plan and also the RF's Annual Report.