Jeneeta O'Conoor
Deputy Compliance Officer, RF Central Office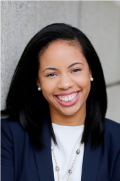 Specialties:
Corporate Compliance and Ethics
Mentoring:
Why I want to be a Mentor:
"The motto that "the best way to learn is by teaching others" can also be applied to mentorship. By helping another person find their voice, you will inevitably discover new things about yourself. I find that I am strongest when I am placed in a position where other people are counting on me, so I think that committing myself to the development of another individual will help me to discover my strengths as a leader."
Personal Statement:
"I have been with the Research Foundation for over five years; first starting off as an intern in both the Office of Compliance Services and the Office of Innovation & Partnerships. I received my Bachelor's Degree in political science from Siena College in 2011 and graduated from Albany Law School and Union Graduate College (now Clarkson University Graduate School) in 2014, with a Juris Doctorate and Master of Business Administration. In my role in the Office of Compliance Services, I am primarily responsible for policy and procedure administration, conflicts management, and ethics training and education. In my spare time I love to travel and visit family and friends. I often seek out opportunities to get involved in the local Albany community and welcome any opportunity to further develop myself both personally and professionally."
Philosophy:
"I firmly believe that good things will happen to good people who not only commit themselves to doing their best, but also remember to reach back and help others to achieve their goals as well. You can only get back what you put in, so it is important to do your part in creating the type of environment where you and your teammates can be successful."
Commitment to Diversity:
"I demonstrate my commitment to diversity and the individual growth of people through my participation on the hiring teams for different positions within the Research Foundation. I am a champion of professional and personal growth and development. Outside of my work within the RF, I serve on the programming committee for the Tech Valley Young Professionals Network (YPN), through the Albany Chamber of Commerce. Through YPN, I help to serve a diverse group of young professionals in the capital region by partnering with local businesses to create fun and unique networking opportunities. I am constantly encouraging others to get involved and have a voice in their community, so that we as diverse people can be accurately represented both in the workplace and within our respective communities. I also take part in the local Courageous Women Leadership community, which provides leadership training and support to women from a variety of different backgrounds."
Contact Information: