Camilo Medina
Associate Auditor, RF Central Office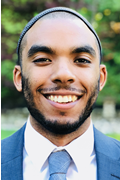 Specialties:
Internal Auditing, Public Speaking, Diversity & Inclusion
Mentoring:
Why I want to be a Mentor:
"I aspire in my professional and personal life to to affect change and grow every day. Participating as a mentor gives me an opportunity to build a relationship, and have a direct impact on an individuals professional development. I know the impact my mentors have had on me, and with the opportunities presented in this program, I'd love to pay my experience forward."
Personal Statement:
"Having graduated from the University at Albany with a major in Economics and a minor in Africana Studies, I've always taken an active interest in helping under-represented communities and expanding my worldview. In my personal time, I lead a life of faith that's rooted in prayer and personal growth."
Philosophy:
"I remember being in college and having a professor that took an active interest in my development, and the difference that made in my trajectory. Having this experience, and the privilege of having several mentors throughout my life, it's instilled in me a drive to see others excel and become the best version of themselves."
Commitment to Diversity:
"As a young Puerto Rican male, as well as a man of faith, Diversity & Inclusion is a very important area of my life. It's something I'm constantly aware of, and seek to make a difference in. A part of diversity is understanding and appreciating the individuality within everyone. Building on that, getting an individual to understand their value, and what they bring to the table is critical. As a mentor, this will be a primary focus of mine, and I look forward to seeing the growth in my protege."
Contact Information:

camilo.medina@rfsuny.org