Dr. Jeff Cheek - President & Chief Executive Officer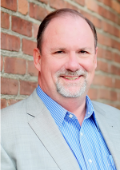 Dr. Jeff Cheek was elected President of the Research Foundation for SUNY on March 24, 2016.
A researcher and scholar in the area of environmental health, Dr. Cheek's career spans over 20 years of progressive leadership experience in large public university system research-related operations, research administration and compliance.
Dr. Cheek most recently served as Associate Vice Chancellor for Research Administration at North Carolina State University (NCSU). With oversight of Sponsored Programs and Regulatory Compliance Services, Dr. Cheek was responsible for the submission of proposals, negotiation of agreements, non-financial project management and administration of sub-agreements, as well as institutional regulatory compliance, conflicts of interest, export controls, facility security matters and research integrity.
Prior to his time at NCSU, and as Associate Vice Provost for Research Compliance and Operations, Dr. Cheek led the development and implementation of research operations at University of Washington. Responsibilities included management and oversight of the Office of Sponsored Programs, the Human Subjects Division, the financial conflicts of interest program and the Embryonic Stem Cell Research Oversight Committee.
Previously, he served as Assistant Vice President for Research and Learning Innovations for the University of Colorado (CU) system, where his duties included the promotion of research across the three campus system with emphasis on regulatory compliance and multi-campus and interdisciplinary initiatives.
Dr. Cheek's experience includes oversight of two state programs, funded by tobacco settlement monies, that supported research targeted at reducing the morbidity and mortality associated with tobacco use.
He served as the Director of the Colorado Tobacco Research Program, which funded approximately 50 projects totaling $16 million. Prior to that experience, he served as a program officer at the University of California Tobacco-Related Diseases Research Program with oversight of approximately 120 grants totaling $120 million.
Dr Cheek's hands-on interaction with core research business activity, faculty, research administrators and staff, aligns directly with the RF's mission and commitment to grow SUNY research and increase SUNY's impact on solving state, national and global challenges.
As RF President and working with campus and SUNY System Administration leadership, Dr. Cheek plays a key role in shaping SUNY's strategies for advancing research and grant activity as part of SUNY Excels performance system.
Dr. Cheek earned his PhD and MS in Public Health from the University of California at Los Angeles, and started his career in research serving as Assistant Research Professor, Department of Veterinary Anatomy, Physiology and Cell Biology at University of California, Davis. His research generated 15 peer reviewed articles and two patents.
Contact Information:
Phone: (518) 434-7162
E-mail: Jeff.Cheek@rfsuny.org